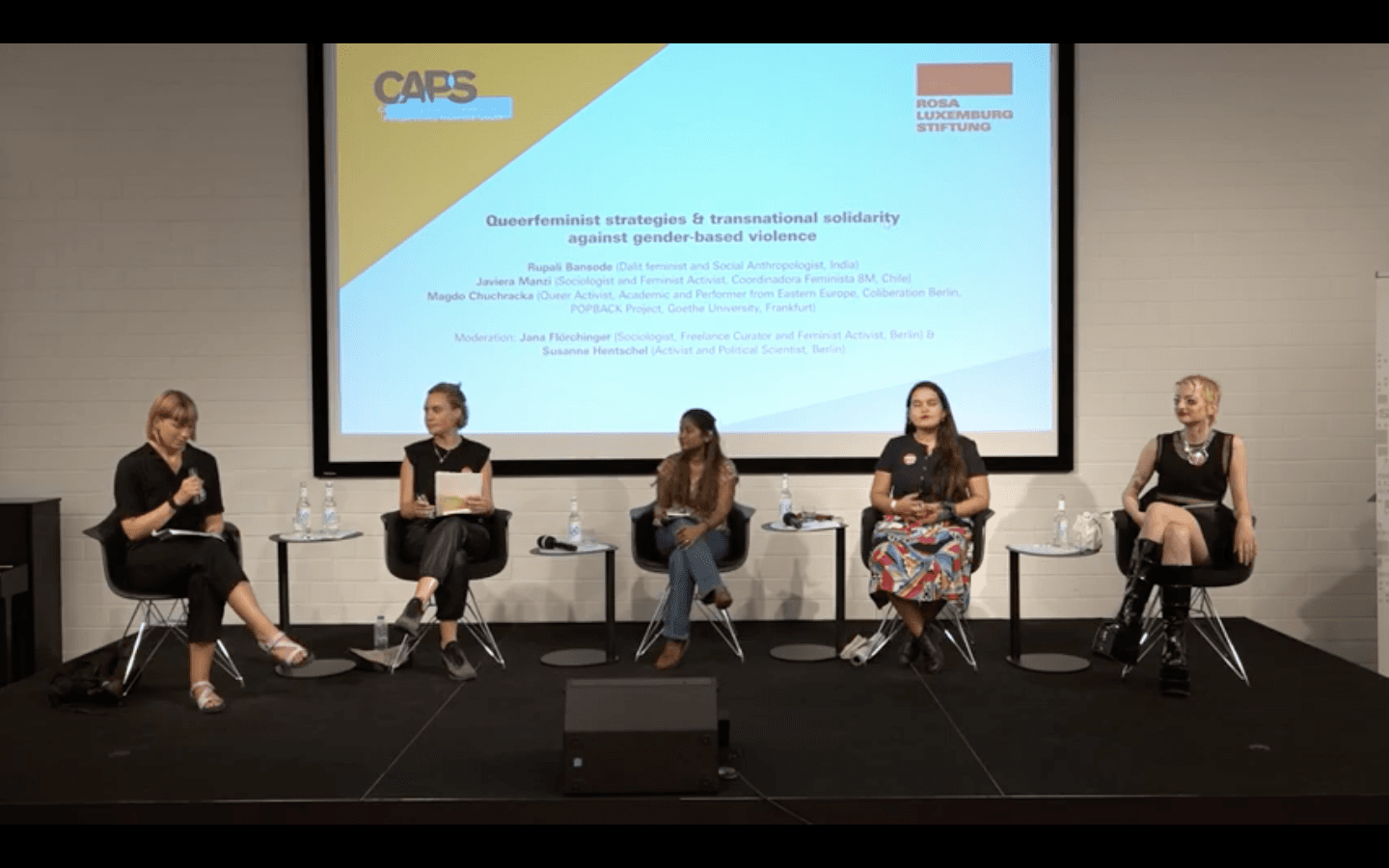 Queer-feminist strategies and transnational solidarity against gender-based violence
Theory & ResearchThere is a lot to learn from and find inspiration in the strategies, perspectives, and experiences of queer and feminist struggles which manage to influence and bring together diverse counter-hegemonic actors
Queer and feminist organizations are prominent actors in the struggles against authoritarian regimes and movements across the world. The activism of women and LGBTQ+ against gender-based violence is accompanied by a commitment to social justice in many countries, which confronts neoliberalism, racism, colonialism, and militarization.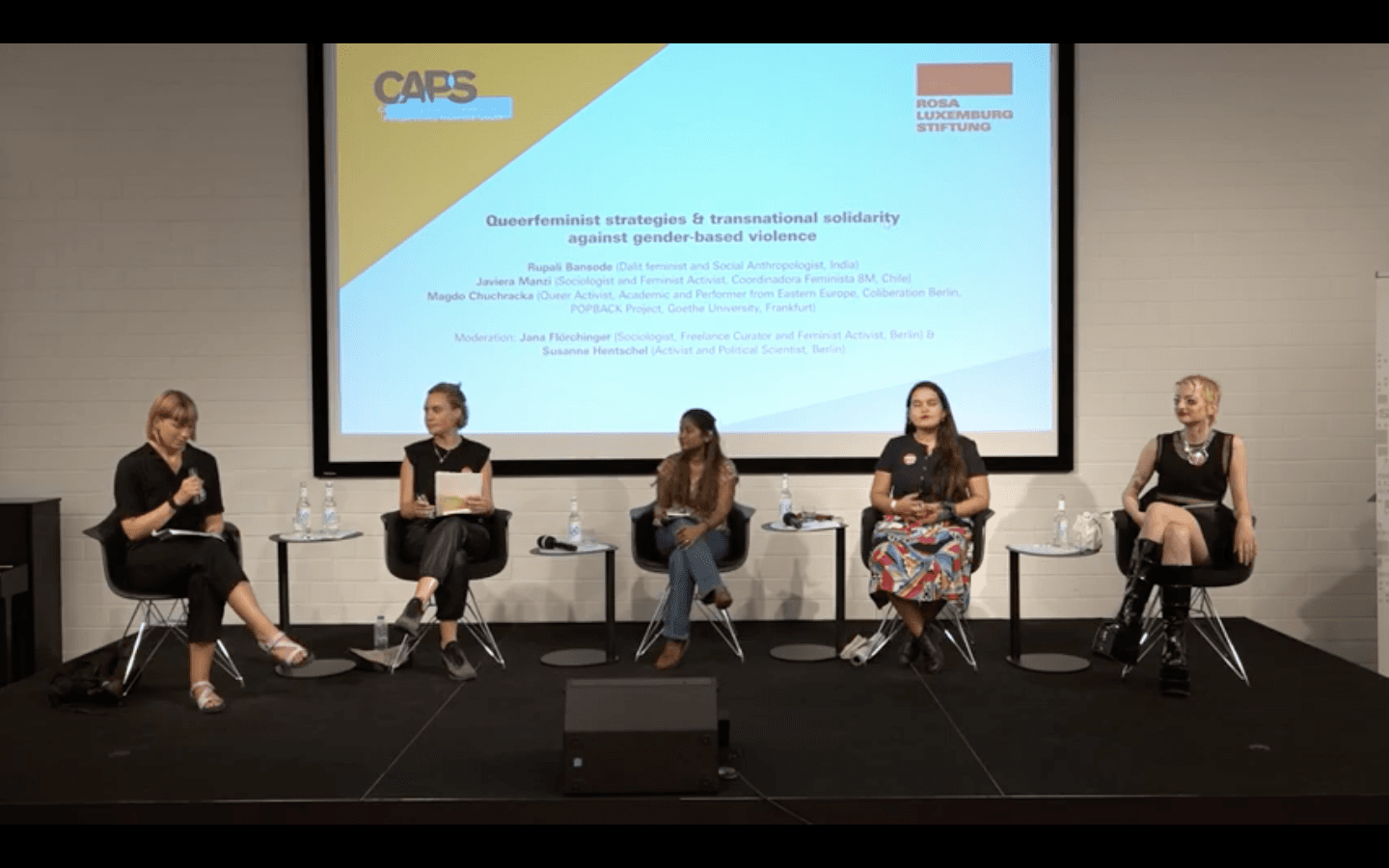 Here you find an external content from YouTube.
By clicking onto the video you agree to the terms of service of YouTube.
By adopting an intersectional perspective, they address inter-connected multiple regimes of inequality, oppression, and dispossession. Due to their discursive interventions and on-ground strategies, queer and feminist politics prove to be highly influential and instructive for other counter-movements and critical academic perspectives at a global scale.In recent years, "anti-gender ideology" has become a major binding element of right-wing mobilizations for reconstituting and strengthening the patriarchal family model and arguably for misrepresenting the afflictions caused by neoliberal policies and crises. Judith Butler describes this ideological alliance and points out its ties to the social effects of neoliberal market policies as follows:
The platform of the anti-gender ideology alliance of right-wing Catholics and Evangelicals is clear: they oppose feminism, LGBTQI rights, especially gay marriage and trans legal and medical rights, single mothers, gay parents, and more. My wager is that as neoliberal economic policies devastate the work lives and the sense of futurity for many people who face contingent labor and unpayable debt, the turn against "gender" is a way of shoring up a traditional sense of place and privilege. It also draws the line between public and private, walling off the family and its patriarchal privilege from the market, where humiliation and dispensability have become the norm.
(Butler, 2019, p. 5)
Building on these points, anti-gender discourse serves as an ideological glue and a useful strategy of consent-building adopted by authoritarian governments as in Hungary, Poland, and Mexico. It unites a multiplicity of actors including organized religion and far-right public figures against progressive and emancipatory social forces. In this context, repression and discrimination against women and sexual minorities become more evident through the re-invigoration of traditional family ideals and gender roles. However, solidarity among the LGBTQ+ and women across borders and their collective struggles also expand to resist and raise the demand for an egalitarian and revolutionary organization of our public and private lives.
Violence and hatred grow, but so do resistance and solidarity
The morality police in Iran arrested and murdered 22-year-old Jina Mahsa Amini in September 2022 for not wearing hijab in accordance with the religious rules. The protests that began in her hometown soon spread to the rest of the country and turned into an astounding mobilization with the participation of diverse social groups including feminist and queer activists. Despite the heavy violence of the regime, the uprising in Iran still continues, resting on a long history of women's struggle along with the struggles of other persecuted and dissident groups against the religious regime's oppression and brutality. In the early days of the protests, women in Iran began uploading videos on social media as they cut their hair and burn their headscarves protesting the regime. This act of protest was soon embraced by women in other countries, turning into a global campaign of solidarity with the uprising in Iran against the authoritarian and religious forms of oppression.
Around the same days when the protests in Iran began, pro-government organizations in Turkey launched an anti-LGBTQ mass rally in Istanbul under the banner "We are meeting for the family, together with our families". This campaign shows the deployment of anti-gender ideology around the notion of "sacred" family, with the purpose of evoking a moral outrage and reaction against the growing visibility and influence of LGBTQ+ activism in contemporary Turkey. The rallying crowd was carrying Turkish flags along with picket signs reading slogans like "Say stop to the genderless society project", "LGBT, remove your dirty hand over our children", and "Protect your family and lineage from global gangs". This constellation exemplifies how nationalist conspiracy theories, which are staples of new-right movements, are also integral to anti-gender mobilizations. However, the anti-LGBTQ rally did not go unnoticed as it received a significant amount of backlash which brought together diverse social groups in the opposition and called out the event "the meeting of hatred". This response displays the social legitimacy achieved by the LGBTQ+ movement in Turkey after decades of struggle and its success in impacting public opinion.
Against the precariousness of life
Given the situation, there is a lot to learn from and find inspiration in the strategies, perspectives, and experiences of queer and feminist struggles which manage to influence and bring together diverse counter-hegemonic actors. In addition, there is much benefit in furnishing platforms of dialogue and cooperation among these movements burgeoning in different parts of the world. For this purpose, during the CAPS, we organized a panel on queer-feminist strategies and transnational solidarity. The discussion addressed gender-based violence which takes place at the junction of colonialist domination, racism, class inequalities, neoliberal dispossession, and militarization, as well as patriarchy and heteronormativity.
Several critical issues were raised during the panel by the speakers and the audience. Javiera Manzi, a sociologist and activist from Coordinadora Feminista 8M in Chile, told that they consider the anti-neoliberal agenda as a constitutive component of their feminist perspective to transform all aspects of social life. She emphasized that it is the precariousness of life, together with sexual repression and gender-based violence, against which they are fighting. In that respect, she highlighted the Ni Una Menos, Las Tesis, and the International Women's Strike experiences that took place in recent years, generating a significant impact in Chile as well as the rest of Latin America. These mobilizations connected the struggles against gender-based violence, police brutality, and the precarity fueled by neoliberalism. Manzi pointed out that in Chile, which is one of the most neoliberalized countries in the world, there is no right to strike and feminist organizations have a leading role in organizing and advancing public demands for the right to strike and other labor rights.
Furthermore, Manzi discussed the vanguard and uniting role of feminist organizations in the social revolt in Chile that started in 2019, giving way to alliances among and the convergence of different social movements. This role entails a feminism from below perspective that is trans-inclusive and anti-racist, celebrating diversity and political dissent simultaneously. Feminists in Chile took part in the drafting of and campaigning for the new constitution proposal, by incorporating the demands for the equal representation and participation of women and non-binary people in public life along with vital social rights such as public housing.
Another critical point that Manzi made was concerned with indigenous identities and their autonomous struggles within the framework of anti-colonial feminism. She acknowledged the existence of tensions when it came to indigenous feminisms, particularly that of Mapuches in the Chilean context. In response, the idea of reforming the state as a plurinational entity, as proposed in the new constitution draft, would allow for some form of legal pluralism and help with empowering the indigenous communities. Manzi argued that even though legal pluralism could be controversial from a white feminist point of view, this topic should be discussed not by encamping feminists on the one side and indigenous people on the other. Instead, this issue should be addressed and debated in collaboration with indigenous feminists by prioritizing their perspectives and needs.
Confronting heteronormative patriarchy and calling for transnationalism
Magdo Chuchracka, a queer activist from Poland, discussed the centrality of Catholic fundamentalism and the idea of the traditional family in the populist and conservative strategies of the Polish government at the expense of the rights and well-being of gender and sexual minorities. The schooling system emerges as a major area where these reactionary policies become evident. There have been attempts to restrict the visibility of LGBTQ+ in Polish schools through the discourse of "LGBT-free zones" for allegedly protecting and not-sexualizing children. Chuchracka expressed that the practice of "LGBT-free zones" resulted in overt discrimination against queer people in public life and facilitated acts of persecution and intimidation, even enabling some people to bring homemade bombs to attack Pride marches. Such assaults become possible as Polish law has no clauses recognizing and taking action against hate crimes motivated by homophobia and transphobia.
In response to a question about the role of nationalism and militarization in the enforcement of heteronormativity, Chuchracka drew attention to the hypocrisy and Eurocentrism resurfacing in the Polish government's border policy with respect to the war in Ukraine. They noted that the Polish government presented itself as a humanitarian actor by letting in the ethnically Ukrainian refugees while militarizing its borders against the non-European migrants and also putting at risk the lives of the women in its borders who want and need to have an abortion. The criminalization of abortion has long been a burning issue in Poland which resulted in massive protests. Despite the strength of such mobilizations, Chuchracka mentioned the existence of trans-exclusionary and nationalist stances in the anti-abortion ban protests. This position also materialized in the campaign against the "LGBT-free zones", according to Chuchracka, wherein some feminist women did not support this mobilization since they did not take issue with heteronormativity as much as they did with patriarchy.Another significant topic that Chuchracka raised was the importance of respecting diversity and imagining trans-feminism in new transformative ways that are inclusive of different voices and appreciative of specific localities, rather than emulating the established Western models or staying within the confines of nation-state borders. They indicated that struggles against patriarchy and heteronormativity transgressed borders and could not be put under national flags. In that regard, Chuchracka argued for the necessity of paying attention to cultivating transnational conceptions and practices of trans-feminism.
This is a brief highlight of the topics discussed during the panel. To see the rest of the story, you are welcome to watch the recording.
The panel "Queer-feminist strategies and transnational solidarity against gender-based violence" , with Javiera Manzi (Sociologist and Feminist Activist, Coordinadora Feminista 8M, Chile), Magdo Chuchracka (Queer Activist, Academic and Performer from Eastern Europe, Co-liberation Berlin, POPBACK Project, Goethe University, Frankfurt) and moderation by Jana Flörchinger (Sociologist, Freelance Curator and Feminist Activist, Berlin) and Susanne Hentschel (Activist and Political Scientist, Berlin) was part of the conference "Contesting Authoritarianism: Perspectives from the South" that happened in Berlin from 16. to 21. May 2022. You can watch all vídeos here
References
Butler, J. (2019). Anti-Gender Ideology and Mahmood's Critique of the Secular Age. Journal of the American Academy of Religion. doi:10.1093/jaarel/lfz083